XonRID® Soothing Radiotherapy Relief
Alleviating the symptoms of radiation-induced dermatitis
XonRID® Soothing Radiotherapy Relief
Alleviating the symptoms of radiation-induced dermatitis
95% of people who have radiation therapy experience Radiation Induced Dermatitis (RID) due to dehydration of skin cells.1
RID is a painful condition that leads to redness, swelling, scarring of connective tissue (fibrosis) and ulceration on affected skin.
The discomfort of burning and itchy skin can worsen if it is not appropriately managed.
95% of patients receiving
radiation therapy experience RID
XonRID® is a topical gel used to relieve the symptoms of radiation-induced dermatitis (RID). RID is a common side effect of radiotherapy, also called radiation therapy, which is used as a treatment for many types of cancer.
XonRID® prevents and treats skin symptoms such as erythema, itching, burning sensation and pruritus, induced by radiotherapy or other causes.
When applied to the target skin areas, XonRID® forms a protective film, reduces the TEWL (Trans Epidermal Water Loss) and increases moisturizing. It promotes the healing process by restoring the physiological hydration levels of the skin.
Have additional questions about XonRID®? For more information, visit the FAQ page or download the Instructions for Use
Please click here to access patient information leaflet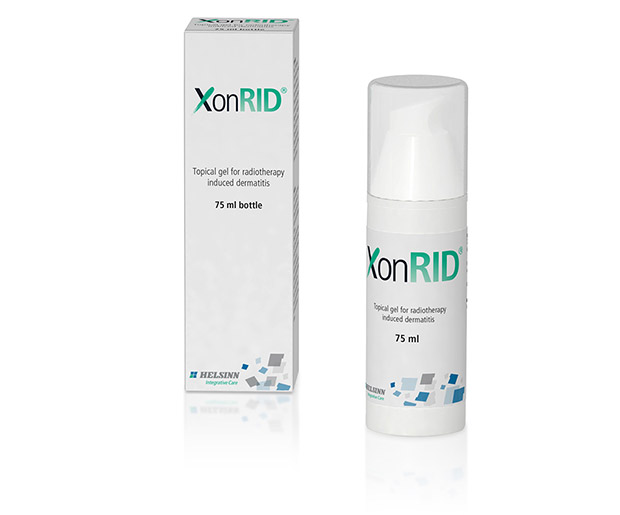 The protective film from XonRID® locks in moisture, preventing further dehydration and inflammation, and improves the skin's tolerability to radiation therapy.
Apply XonRID® to hydrate damaged skin cells. The smooth, aqueous gel can be safely applied to even the most sensitive areas of skin.
The soothing effect of XonRID® is enhanced by the addition of natural ingredients, including chamomile and sweet almond oil.
×
Promoting Natural Healing
Hyaluronic Acid
Hydrates the skin
Chamomile
Natural soothing properties
Sweet Almond Oil
Nourishing substance
Hyaluronic Acid
Hydrates the skin
Chamomile
Natural soothing properties
Sweet Almond Oil
Nourishing substance
Information for Healthcare Professionals
With XonRID®, patients may:
Experience a reduction in skin toxicity1

decrease in the incidence of grade-3 toxicity, with onset occurring at week 5, where historical control showed grade-3 toxicity from week 31
delay of grade-2 toxicity, which subsequently reduced in severity by the end of radiotherapy

See an improvement in quality of life1

correlated with less toxicity
XonRID® was also shown to be well-tolerated with no allergic reactions reported in a recent clinical trial.1
100% of patients adhered to treatment with XonRID® and were satisfied with the gel.1
Patients' grade of skin toxicity over the study period1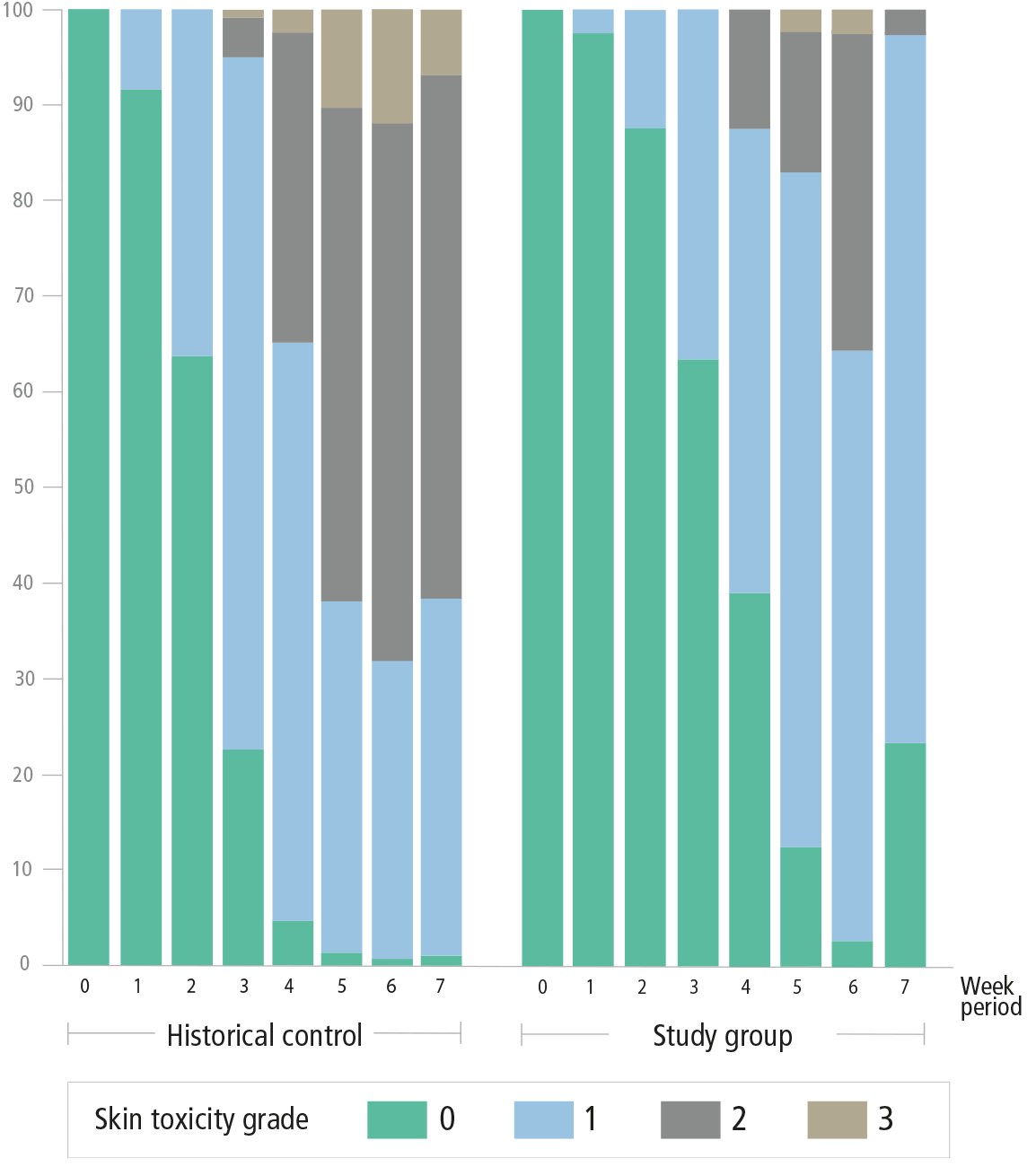 Adapted from: Iacovelli N. et al. Support Care Cancer, 2017.
*In a monocentric, prospective pilot study. Results were measured through patient questionnaires, physician assessments and spectrophotometric imaging.
XonRID®: Alleviate the symptoms of radiation-induced dermatitis for your patients
1 Iacovelli N. et al. Preemptive treatment with XonRID®, a medical device to reduce radiation-induced dermatitis in head and neck cancer patients receiving curative treatment: a pilot study. Support Care Cancer 2017, 25:1787–95.
2 XonRID® Instructions for Use / Information Leaflet, rev. 2017/04.